photos by Richard Schumacher
One common thread unites model railroaders: the love of trains. Additionally, most people, model railroaders included, love their children. Lets face it: whenever the opportunity presents itself, which of us will not whip out pictures of our kids. When someone maintains such strong affinities, he wants to be able to enjoy them but also share them with those closest to him. While sharing your model railroad with your children, or grandchildren, remains a noble endeavor, some guidelines must be followed.
As the tag line of the Model Railroader magazine proclaims, "Model railroading is fun!" To this end any interaction between your kids and model railroads must emphasize this aspect. Children love to explore their world. Part of that world includes you, the parent. Strangely, when put in a "learning environment," children often lose enthusiasm for knowledge. We may blame school for this, but that will not gain anyone anything. Therefore, one must teach with one hand while keeping the attention of the child with the other. Model railroading provides an excellent decoy for teaching kids about their world.
It is a fact: kids love trains. Even a child who has never experienced a real train finds the model version fascinating. Perhaps the movement of the trains on the model pike holds the blame; but, personally, I believe the attraction consists of much more. Of course, I cannot quite lay my finger on what the "more" is. One thing remains certain: model trains bring out a sense of child-like wonder in all of us. Additionally, while a kid remains in this wonderland, his mind becomes receptive to many things, which we would like them to learn. This grants a tremendous opportunity for a child to learn about the world. This openness also provides a chance for a parent or grandparent to impart wisdom regarding not only trains, but also life and the world in general. At the very least, model railroading helps to keep our progeny away from the "boob tube" and video games.
When my own children were quite small, I would take them along with me to train shows. The first occurred by chance and ended up featuring the four of us, myself with Matthew, Meaghan, and Mollie, hand-in-hand strolling through the gymnasium at Belleville Area College (now SWIC) gawking at the layouts. Given that they ranged in ages from one to five at the time, this appears in retrospect to have been a very gutsy move on my part. The three behaved very well that day and talked about our little detour for weeks. This began a period of hitting train shows at every opportunity, since at the time money was tight, the kids got in free, and we all enjoyed a great time together. Funny, how kids always seem to enjoy a chance to be with their parents, multiplying the joy provided by the shared activity.
During this time, I taught my children simple rules for running trains. The first rule consisted of simply moderating speed. My children learned that racecars required high speeds, while trains do not. I realized how well this penetrated when later watching Mollie, then three, running the Lionel layout provided for little kids at the Great American Train Show. While two of the circuits looked like the trains were ready to fly off the tracks, the train she controlled putted along the track quite contentedly, drawing the attention and comments of several experienced model railroaders.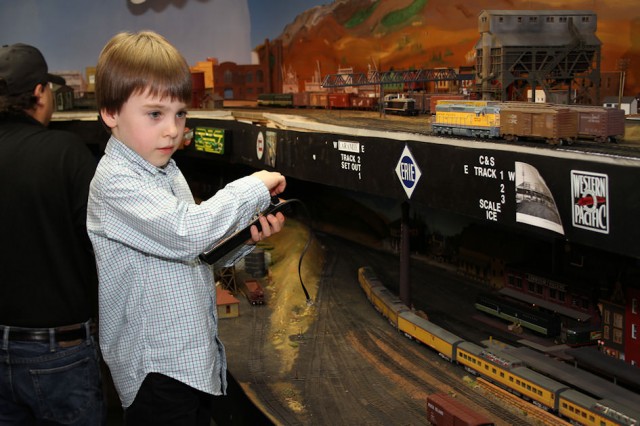 Control of speed ranks first among the lessons children need to learn. Following right behind, though, stands the need to understand why railroads do the things they do. For instance, when the little one throws the turnout and takes off with his train, ask him whether the brakeman who threw the switch was able to climb aboard. Also, explain the use of signals and also that the "Uncle Fester" method of operation belongs only to the world of television. Finally, in order to maximize their enjoyment, keep the track and equipment clean, just as you would for your regular operators, for nothing is more frustrating than a layout that sputters and spurts.
While the children are still learning throttle control, you, the adult, must allow for whims. Allow the tikes to drop off cars where they wish, with the exception (of course) on the main. At the same time ask the kid why the Staley Syrup tank car is being delivered to the appliance manufacturer. When junior replies, "They want pancakes for breakfast," smile and enjoy the moment, since children become much too serious, much too quickly. Also, discuss what the recipient of the car actually does in their line of work and what they need to accomplish their goals. In this way you encourage their natural curiosity while at the same time allowing their whims and avoiding forcing their progress and understanding. Like sheep, children must be led, not driven.
Remember that much of the enjoyment a child derives from running trains stems from the company in which the activity takes place. The child derives more pleasure from being with mom, dad, grandma, and/or grandpa than from the event he shares with them. Whether the layout boasts complete scenery or resides in the "plywood Pacific" stage matters little. As an adult remember to let loose a little. Allow for the use of imagination. This includes sound effects. Kids love it when parents act like goofs. When they see you enjoying yourself being a little silly, you teach them that they should enjoy not taking themselves too seriously as well. In other words, "Sound, it's not just for decoders."
In the prototype world of railroading accidents happen. In many case incidents are a matter of life and death. Fortunately, accidents in the model world carry far less weight. This remains an important point to remember. When the train jumps the track for the roadbed, bench work, or even the floor, please keep your cool. Over time, children will learn caution. Models can be repaired or replaced, while fixing children's feelings remains much more difficult. Therefore, make a production of bringing out the wreck train. Although such incidents are not something to celebrate, enjoy the moment from the child's perspective. She will tell the tale of the spectacular crash many times. Remember this equation: 2 year old + $200 locomotive + "OOPS" = "Oh, #!&%*!" The moral of the story is to use appropriate equipment.
Operations spring naturally from running trains. Since kids love puzzles and games, teach operating as such. Whatever you do, do not just dump car cards, waybills, time schedules, orders, rules, and a fast clock on children the first time. Instead, begin informally by having them drop cars here and there as appropriate. Use a sequence schedule where each train runs after the preceding train finishes, saving the clock for later. Allow the interest of the children to dictate when to add details such as brake checks, throwing turnouts, orders, etc. Always keep in mind and emphasize fun. Try not to be too ambitious, when the kids get tired or frustrated or distracted, give them the rest of the day off. Remember that they are learning and allow for mistakes. Nothing can happen that cannot be fixed, so have the wreck train ready. You should block out plenty of time in your schedule to provide them with your undivided attention until they are ready to move on to something else.
Another area for you to enjoy with your children occurs with building. Once again start easy. Basic kits such as those sold by Accurail, Bowser, and the now-discontinued blue-box kits from Athearn provide the opportunity for a child to proudly point at the car she built. From my own experience, please wait until the child enters kindergarten. As their manual dexterity and fine motor skills improve, you can introduce them to more detailed and complicated kits. Always remember to let the child direct their progress. Eventually, you will be able to scratch build rolling stock with them. You can never quite predict when this glorious event will occur, since my older children have never shown the interest; but Maggie, the youngest, has started a refrigerated car at the age of eight.
Kids can also help you paint models. This can result in some very interesting results, such as the seats in some of my passenger cars sporting a variety of colors, even in the same row. Just remember, if the job is really important, do it yourself. Children can also help paint figures, although you may have to do a little touch up. One thing my younger son found truly enjoyable was weathering. Needless to say I have a few items looking like they may have first seen service in about, oh, 1066.
Scenery also presents opportunity for quality time. My children have helped to make trees, both from kits and scratch. I also learned that kids think that plaster is fun! I have also learned that it can be removed from fascia boards. Especially with products from Woodland Scenics, anyone can clothe your layout in hills, rocks, trees, and other vegetation. Kids get a kick out this. Just make sure no one sneezes around the ground foam.
Not only can you enlist the aid of your kids in landscaping, they can also assist in laying out your towns. This tasks makes a great "teachable moment" in that you may chat with them concerning such things as what business actually do, why things look a particular way, and clearance for the rails. Also, allow kids to place figures, animals, automobiles, and other details. When a child puts these items on the layout, ask them what he wants the scene to convey to an observer. Lastly, let them clean the track if they want.
Most model railroaders play games when naming things on their pikes. Everyone, especially kids, like to see their names. With five children, I tap an invaluable store or potential names. To this end I named businesses Matt Shoe (Matthew), May Grain (Meaghan), Mike Oil (figure it out), and McGee Produce (Maggie). I have also used middle names as in Robert's Meats (Matthew) and Bridgit Coal (Mollie). Michael's nickname from when he was little provided Paduky Transfer, while Meaghan's initials became MAC Steel. Each of these companies owns or leases rolling stock providing a little variety from the home road. Other items such as towns, streets, and off-line business may also bear the names of children.
Feel free to also add a few whims with which to tickle their fancies. The Short Seven Mine shipping black diamonds near a house marked "S. White" will certainly add to the entertainment value of the layout, and not just for the kids. A cowboy wearing a white hat and black mask along with a Native American Indian riding by a rock, or the Batmobile tearing down a country road will certainly get a smile as well. My kids get a kick out of the man in the yellow hat with his monkey at a station as well as Charlie Brown, Sally, the little red haired girl, Snoopy, and the "stupid cat" populating a neighborhood. Given the popularity of the "I Spy" books, such touches add an extra dimension your layout.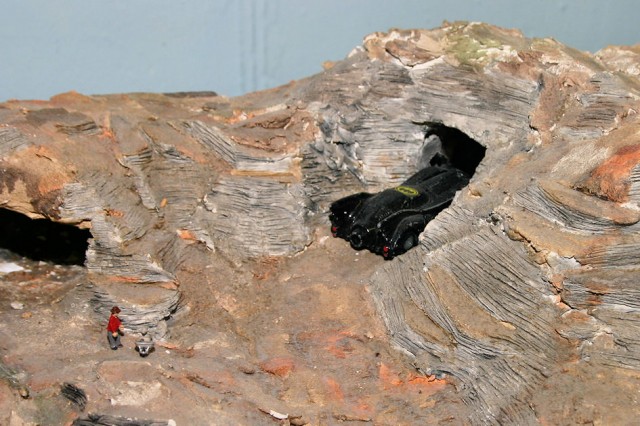 On the subject of books, every child likes for her parents to read to her. Personally, I refuse to read books at the child's reading level, but still find books that they understand. Characters like "Thomas the Tank Engine" and "The Little Engine That Could" provide an entertaining diversion. My middle daughter used to balk at taking a nap. With a name like Mollie, however, she found the concept of a locomotive called a Mallet to be the bee's knees. I would give her a coffee table book of train pictures for her to look at, park her on a bed, and tell her that she could take a rest while looking at the pictures. A little while later I would find her asleep with the book open. Eventually she caught on to my subterfuge, but still went along with it.
I also allowed the kids to accompany me on research trips. These are good times to ask them "why?" Obviously many places can be dangerous. To this end I went with a friend sans children to photograph the old Wabash Station on Delmar Ave in St. Louis. Michael, however, accompanied me after his little league playoff game in photographing the scrap line in Madison, Illinois. I also took Maggie in a stroller to photograph Roesch Enamel in Belleville. As a group, we have also invaded the library, where they helped me until getting bored and then pursued their own interests.
I hope these little tips give you some ideas on sharing your passion for trains and models with your kids or grandkids. As much as I love trains, the best times will always be those spent with my family, no matter what the activity.