Index
A-B
C-J
K-O
P-S
S-Z
The Division officers are working on an update of this information. Here is the content that was on the old website. Please send changes to layouts@gatewaynmra.org. This page has an example (Pete Smith) of how photos links will appear on the updated directory.
Richard & Suzi Schumacher, Saint Louis Southern Railroad
The transition-era SLS connects St. Louis through Memphis and Mississippi into the bayou country of Louisiana to the heavy industrial port of New Orleans (on the lower deck). Another division of the "Delta Route" (on the upper deck) branches in southern Missouri to the southwest to reach Little Rock, Texarkana and the Texas "chemical belt." Trains from connecting roads (MP, RI, Santa Fe, Cotton Belt, IC, GM&O, EL&EL) use these lines to carry traffic and relieve their congested rails. When completed, the HO St. Louis to New Orleans route will be almost 4 scale miles in the 34'x42' railroad room. The 35'x26' double-deck "first phase" area is in construction with over 650′ of Code 83 track already installed. North Coast Engineering DCC is used for control, and the layout features steam and diesel engines with Soundtraxx and QSI sound. Major on-line industries include docks and warehouses, sugar and flour mills, grain elevators, oil refinery, cypress lumber mill, paper mill, team and LCL tracks, packing plant, coal mine, bean processing plant, seasonal cannery, brewery, and a steel mill complex.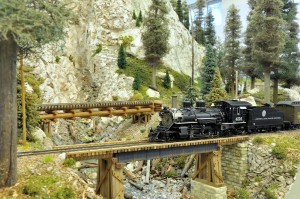 Experience logging, mining and waterfront operations in Sn3 on this 28'x20' layout. DC cabs with Soundtraxx controls Shays and Heislers crawling on code 55 and 70 rail on the loop-to-loop 125 foot mainline.


Mark Soughers
This 20'x18' N scale layout depicts the era following WWII (1945-1950s) with steam and early diesels running on two mainlines. Digitrax DCC.
Dave Stortzum, Burlington Route
CB&Q of the mid-1950s. A single track loop configured to look like a double track mainline. Featured in the Nov. 2000 Rail Model Journal. Hilly and rocky terrain, 22 tunnels, over 4,400 handmade deciduous trees, lots of mainline run. N 38'x16'. See http://mvns.railfan.net/stortzumindex.htm.
Mike Swederska
This 30'x15' dual gauge S/Sn3 railroad is designed for operational fun. The "U" shape has a narrower "leg" against a wall with the other 10'x8' "leg" accessible from both sides. All track is hand laid on spline roadbed cut from popular and notched Homosote.
Don Take
Midwest of the 1960s and 1970s provides the setting for these twenty-seven (27) N scale modules designed to move. Undulating hills with reverse loops to allow continuous run. Don't miss the G shelf layout in the same room (with a 6-foot bridge).
Don Taschner, MMR
1950s transition period HO/HOn3 8'x22' layout featuring great award-winning scratchbuilt and kit based structures, wonderful running equipment, and dual gauge trackage. 130' double track standard gauge mainline for steam and diesel operations with an eight track main yard. Benchwork is 1x4s with a 2″ foam base. Aristocraft and PFM Sound control.
Jack Templeton, Buffalo, Pittsburgh & St. Louis
See HO, N, Z and G all in one stop! The HO layout includes an amusement park with its own N scale park train, a cable car, an inclined railroad, two trolley lines and an underground coal mine. The outdoor G layout has a long trestle with over 500 feet of track. The 2'x'4 Z scale layout features an over and under trestle.
Ken Thompson, Baker Creek & Sun Valley
Beautiful SP equipment operates on this compact but highly detailed 10'x13' HO layout set in the high desert. The double track mainline may be viewed from outside the loop or in the center via a duckunder. 1950 or 1980 era changes by changing rolling stock. Perfect ballast. A G layout is mounted on the upper wall of Ken's family room.
Ty Treutelaar, Aina Nani Railway
ANG (eye-nah non-ee, "beautiful land") carries agricultural traffic from sugar mills to docks on the 35'x50' G freelance layout of Hawaiian railroading during the 1930s. See tidal pools, mountains, flumes, trestles and cliffs. The mainline is 187 feet with an additional 225 feet of sidings and yards. Design considerations included broad aisles, no duckunders, no doorway problems, hidden structural support, room to socialize, and benchwork that would blend and become part of the furnishings (a mixture of pine and red oak). Backdrops are enlarged historical pictures of Hawaii. This layout was featured in the May 2001 issue of the NMRA Bulletin.
Wabash, Frisco & Pacific Railroad
This live steam 12″ gauge railroad features a two (actual) mile round trip along the scenic Meramec river, partly on the old MoPac right of way, with a wye on one end and a roundhouse on the other. An additional turntable is located on a siding near the middle of the route and passenger station. The 50 members operate numerous steam, and some diesel, engines on this naturally scenic layout.
Ulrich Wagner, Gottardt-Simplon-Bahn
This Swiss Alps European layout with steam, diesel and traction allows you to travel the countryside and into the Swiss Alps. The modern Swiss era (1960-1990) is faithfully reproduced in detail including city and country living, tunnels and high stone bridges. Like Switzerland itself, 99% of the layout has overhead catenary with all electric locomotives running with the pantographs up. HO 24'x18', complete scenery.
Dr. Harvey and Betty Walker, B&H RR
HO freelance 1950-1960 era 15'x12' layout with complete scenery focuses on the Southwest United States. The main layout is on a 6'x11' table with an urban scene and yard. The three mainlines on the table access an oval helix to reach a 6'6″ high shelf that leads to a sceniced around the ceiling layout on the perimeter of the 42'x27' railroad room. Radio-controlled power packs, two reverse loops, industrial and residential areas, lake, extensive landscaping, and four painted wall murals.
Bill Wehmeier, Katy, KCS and Wabash
The Kansas City area in the late 60s is represented on this 29'x17' layout. Red MKT diesels dominate, but there is also a good representation of KCS and Wabash with a little RI also present. A very large city is modeled which contains a scale 450' steel viaduct. There is also a huge grain elevator and industrial area with in the street running. All motive power is custom painted and detailed. Layout featured in the July 2000 issue of the NMRA Bulletin.
John Welther, Pheasant Run Railway Co.
See a 30-foot trestle and 1930s Missouri mining structures in the wilds of John's backyard. Prototypes on which this layout is based include the Manns Creek RR in West Virginia and the Dolly Varden mine. Beautiful custom locomotives and rolling stock complete this fine G 1:20 scale 20'x30' layout.
Ted Williams, Wabash Tenth District
The Wabash Tenth District of the Decatur Subdivision from Bluff, Illinois to Hannibal, Missouri modeled in HO. The layout reflects the Wabash just prior to the N&W merger in the fall of 1964. You will see the lift bridge at Valley City, IL and the swing bridge at Hannibal. Every effort has been made to recreate the prototype including a scratch built model of the unique Wabash coaling tower, custom made searchlight and three-color signals, plus all railroad structures are painted in prototype colors. First generation diesels and a Wabash business train travel through the highly detailed scenes along a right of way which even includes Wabash whistle and mile posts. Featured in the December 2000 issue of Model Railroader.
Carl Winkler
This layout utilizes seven cabs to run a major freight and passenger yard, seventeen track engine facility, and hundreds of feet of mainline trackage. Beautiful western scenery and a large city complete the railroad. Things to look for during your visit include many locomotives and hundreds of weathered freight cars of various prototypes including CP, MP, NP, GN & UP. Layout featured in the June 2000 issue of the NMRA Bulletin.
John Winter, JDS&E / Pennsylvania Railroad
This extremely detailed 14'x13' "U" shaped layout depicts a bridge route for the Pennsylvania RR between Johnstown and Collinsville, PA. The B&O also has trackage rights over the railroad. Small, highly detailed scenes featuring scratch built structures are the hallmark of this outstanding layout. Featured as a cover article in Model Railroader.
Mike Wise, Sugar Creek Valley Railroad
Mike Wise's completely sceniced HO scale model railroad is a walk in loop to loop, single track main, point to point switching district design with a 78-foot mainline run. This freelance layout, set in St. Louis in 1966, features highly detailed city and industrial areas filled with cars, trucks & people with a large "Anheuser Busch" brewery made from DPM wall sections. Control uses MRC & GML remote walk around throttles and cab controls with monthly operating sessions using train order/switch lists handwritten on GM&O forms.