photo at the unveiling by Dan Hollis
Gateway Division members John Lee and David Lotz began their efforts about a year ago to cosmetically restore one of the ex-CB&Q E units at the Museum of Transport with the goal of having it unveiled at the Burlington Route Historical Society Meeting September 13th.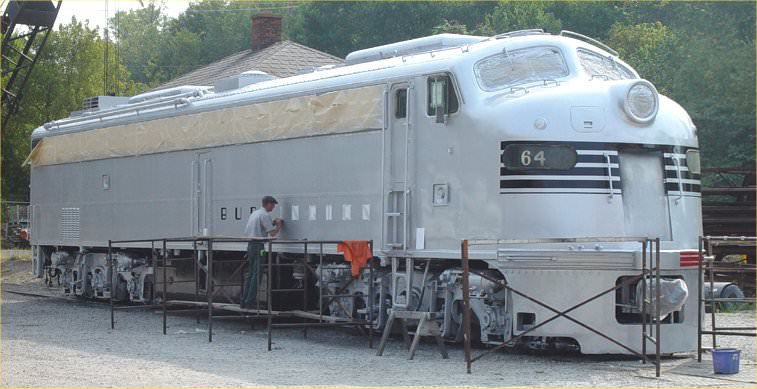 John worked his magic and arranged for DuPont to donate the paint for the project, and arranged for the recasting of the portholes. Dave concentrated on the details of lettering, builder's plates, model designation plates and arranged to have the BNSF West Burlington shop boilermakers recreate the nose door headlight after unsuccessful efforts to locate and existing one. The Illinois Railway Museum allowed David to borrow the nose door from their Milwaukee E-unit as a pattern.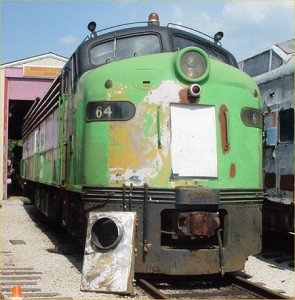 Work on the unit was performed by the crew at the museum and began in earnest the beginning of August. The Marc decals and BN nose stripes had to be stripped and the unit was sanded and primed. Unfortunately the portholes were not ready for the unveiling, but will be added soon.
A big thank you is due to Molly Butterworth at the Museum of Transport for giving permission to undertake this project, and to Don, Jeff and Ted for the many hours of effort in very hot weather to get her done on time! Others involved in the project were George Rust and Bob Mitchell at DuPont; Scott Blair at the BNSF Havelock Shops; Ron Hirsch at the BNSF West Burlington Shops; Dave Dote at the Illinois Railway Museum; Gary Stengle at EMD; AnyKinda Signs; Stiern Laser; Lasermasters; Jamie Lee at Kenalloy Foundry and Kevin Schelen and Mike Spoor of the Burlington Route Historical Society.