text & photos by Richard Schumacher
A big problem when you freelance your own railroad is how to get the decals you need for your rolling stock. Although many vendors offer custom decal services, most have a substantial minimum order and design service charges. This is "ok" when ordering lettering for your home road, since you'll need multiple sets, but what do you do if you want a unique "one of" kind of car?
These two cars are examples of custom "one of" cars. Both are rolling stock for local industries on the Lake's el&el Railroad – the Archer chemical plant in Junction City (Archer is Venita's family name) and Langtry Paper at the end of the branchline in Lillie, La.
Both of these are examples of "word processor" decals. The original artwork was created in Microsoft Word by carefully selecting, formatting and sizing the lettering. All of the lettering needed to be created for the tank car. Since a "data only" boxcar was used for the paper car, I only had to make the road name, "return when empty," and reporting marks.

Two things are critical when designing your decals – use typefaces that are appropriate to the era you are modeling, and don't make the lettering too large. Overside lettering, especially for dimensional data, is a common error. Typically, HO dimensional data is only 3.5 to 4 points in size. Reporting marks and road names are larger – but still only in the 7 to 9 point range.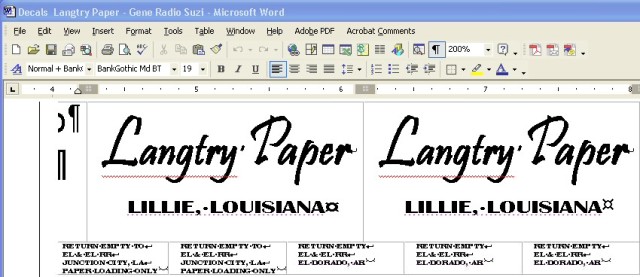 Printing black decals is easy – you use decal paper designed for a laser printer. White and color decals are much harder to print – a normal inkjet won't work, since the results are transparent colors. The hard-to-find ALPS MD-1300 prints with opaque colors and even metallics, and many decal services use that model.
VALX 1202 is a standard Athearn 3-dome tank car with Kadee couplers and metal wheelsets. The tank, ladder, railings and trucks are painted C&O Enchantment Blue with a Grimy Black frame. All of the lettering is metallic gold in various Franklin Gothic typefaces. This color combination creates a quite attractive car.
LLPX 2003 is an Accurail "data only" model. "LLPX 2003" was added on the sides and ends in Century 725, along with the company name (Pristina), location (Britannic Bold) and "return empty" (Century 725) marks. The decals were printed in opaque white using an ALPS MD-1300 printer.