(Or, The Tour That Almost Didn't Happen!)
photos by Dale DeWitt
Saturday, October 4 was a beautiful fall day, and 26 members from the St. Louis Chapter NRHS and the Gateway Division NMRA were anxious to start the tour. 10 a.m. came and went and no UP personnel showed up. An anxious moment was at hand for the tour leader. A quick scan of the site showed some workers at another building but they were contract people and knew nothing about a tour. To the rescue came a janitor who helped the tour director find the cell phone number of Jim Ross, Director, UP Car Shop. A quick phone call and explanation of the situation caused a long pause, and then a quick reply he would call the two managers who were supposed to be there. Shortly a call came back and he said one person forgot and another was sick but that two people would be there in a half hour.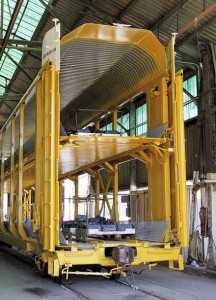 Finally, at 11 a.m., the tour began with Dennis Hubbs, Foreman General, and Bill Young, Car Inspector, leading two groups. For the next 1½ hours we had a great tour through the main Car Shop repair building, the paint building and the outside grounds. Many questions were asked and good answers were given. We were allowed to roam the grounds and take pictures of anything. (An interesting note: During the entire time we were there not a single guard or railroad policeman approached us. This was mentioned later to Jim Ross.)
The UP Car Shop Facilities are located on approximately 360 acres in the heart of downtown Desoto, Missouri. The area has a rich railroad history. Years ago it was operated by the Missouri Pacific RR and before them the St. Louis Iron Mountain RR. About 350 people work at the site now. Some 1,200 to 1,600 freight cars per year go through the Car Shop for anything from minor to major repairs, rebuilding, upgrading and repainting. Multilevel enclosed auto/truck carrier freight cars and container well cars are the most frequent cars going through the Car Shop now. On the container well cars UP owns the rack while TTX owns the body. We saw several examples of both type cars, including 3-unit well cars, in various states of repair.
One line at the Car Shop gets two cars a day. Average time is 3 to 4 days for a single car to get through the Shop. Heavy cranes at the top of the main building are used frequently to move the cars.
Every single part on a freight car gets inspected and repaired or replaced, if necessary. We saw knuckle couplers, lift bars, freight car trucks all apart, springs, grab irons, air hoses, sidepanels, you name it, it was there, all on the floor in an organized manner. Many specialized pieces of machinery were present, from small to huge. We saw lathes, drill presses, tool grinders, hoists, milling machines, to name a few. Of course, it was very quiet as we went through the buildings but you can only imagine the nose level when everyone and every machine are working.
The tour was over at 12:30 p.m. and we thanked Dennis and Bill for their time and patience. Apologies were accepted for us being forgotten, as we were able to salvage a great tour. After the tour, several of us stopped by at the Arlington Hotel, an old railroad hotel in a three-story white building, at 207 East Main Street. We had an enjoyable lunch buffet. From there we went to visit the new Railroad Employees Memorial site located on north Main Street, just before you get to the Car Shop. A red Missouri Pacific Caboose was sitting there. The site is quite impressive with its unique design suggesting tracks (walkways) leading to a turntable (bridge walkway) and a roundhouse (small wall front). It's a nice place to visit if you haven't been there before.
After the visit we went home and some of us took a nap.